If you have symptoms of Coronavirus (Covid-19) - a new continuous cough, high temperature or loss of taste and/or smell, please call 119 or visit: https://www.gov.uk/get-coronavirus-test to book a test.
PLEASE DO NOT ATTEND THE SURGERY
Ramadan 2021 - Update 12/04/2021
This year, Ramadan will be from 12/13th April to 12/13th May 2021 (depending on moon sightings). It is one of the holiest month of the Islamic lunar calendar.
Fasting plays an important role in many religions around the world. In Islam, Muslims, who are able to, are required to fast during the month of Ramadan and other times of the year too. Young children, pregnant women, the elderly and those with illnesses are exempt from fasting.
Good nutrition and hydration is vital during Ramadan. People should eat a variety of fresh and unprocessed food and drink plenty of water.
The following advice has been taken from the Muslim British Council (MBC), Council of British Hajjis (CBH UK), the World Health Organization (WHO) and Diabetes UK websites:
With COVID-19 lockdown restriction easing still ongoing, 2021 Ramadan will be a very different experience for British Muslims. Whilst restrictions will be more relaxed than 2020, many of the usual practices normally observed such as going to the mosque for Iftar and visiting family and friends indoors will still not be possible this year.
Due to vaccinations being rolled out in phases, many British Muslims will be invited to receive a vaccination jab during the month of Ramadan this year. The British Islamic Medical Association (BIMA) have consulted a wide range of Islamic scholars and the opinion of the vast majority is that receiving the vaccine does not invalidate your fast. Please consult your local Imam or scholar for further details.
The Council of British Hajjis has issued guidance on Umrah and Hajj 2021, which is the pilgrimage to Mecca. Whilst they await official confirmation from the Saudi Ministry of Haj and Umrah on Hajj and which countries will be allowed to participate, they advise all British pilgrims to NOT book a Hajj or Umrah package until the announcement. Please ensure that you check the current travel restrictions for the area in which you live.
Currently there appear to be no studies available on fasting and the risk of being infected by COVID-19. Healthy people should be able to fast as in previous years. People with COVID-19 may consider religious licenses regarding breaking the fast in consultation with their doctor and Imam, as they would with any other medical condition.
Fasting with diabetes can carry risks. There may be a higher risk of a 'hypo' or hyperglycemia for those with diabetes and people are advised to seek out personal advice from their medical team/doctor and to discuss any resulting religious concerns with their Imam. General information on managing diabetes can be obtained from the Diabetes UK website.
For people experiencing any symptoms of COVID-19 it is not advisable to fast.
For more information please visit:
Update 09/03/2021
If you are an unpaid carer who may not be registered as an unpaid carer you are now being asked to come forward by completing a new online self-referral form in order to receive their Covid-19 vaccine as part of priority group 6.
Please follow the link below to self-refer
UPDATE from
Welsh Government
What priority group for the COVID-19 vaccine am I in if I have asthma? - 16/02/2021
When you will be offered your COVID-19 vaccine is based on advice from the Joint Committee on Vaccination and Immunisation (JCVI). The purpose of this first phase of vaccination is to prevent as many deaths as possible.
We know there has been confusion about when people with asthma will get the COVID-19 vaccine and what priority group they will fall into. We have been urging the government for some months to provide this clarity, as we know it's a worrying time for people with asthma, and we now have an update:
If you were sent a shielding letter, you will be in priority group 4.
If you have ever had an emergency hospital admission for your asthma, or ever been prescribed three courses of steroid tablets in a three-month period, you will fall into priority group 6.
If you do not fall into either of these groups and are under the age of 50, you will be vaccinated after the first nine priority groups.
We have a blog explaining the priority groups and what this means for people with asthma.
We understand this is a worrying time for a lot of people, but we want to reassure you that the government intends to offer the vaccine to all adults, so even if you aren't in a priority group you will get the vaccine later this year.
In the meantime, we urge you to do all you can to lower your risk of catching and spreading COVID-19. This includes:
following the guidance for your area of the country
washing your hands regularly, not touching your face and maintaining social distancing (hands, face, space)
working from home, if you can
not socialising indoors with people you don't live with or are in your support bubble
looking after your asthma– this includes taking your preventer inhaler every day as prescribed and following your action plan.
How long will it take to vaccinate all the priority groups?
There isn't a set timescale for when all the priority groups will be vaccinated.
When you get your invite and your vaccine is dependent on various factors, such as capacity in the NHS and the amount of people in your local area who fall into a priority group. In England, if you are over 70 or clinically extremely vulnerable and have not had your vaccine, you should contact the NHS to arrange your jab.
The advice for everyone else is to wait until you're invited. We will keep this page updated as and when we learn more.
Our sister charity, the British Lung Foundation, has a COVID-19 vaccine FAQ which is also worth keeping an eye on, as will help to answer some of the questions you might have.
Update - 15/02/2020
We understand everyone is wanting to receive the coronavirus vaccine and there is some confusion on what group or where you will receive the vaccination. Please see below the category you will fall in and what center you may be invited to.
PLEASE DO NOT CONTACT YOUR GP SURGERY OR MASS VACCINATION CENTRE.
You will be contacted when your category is due to receive appointment.
Care home residents - HB mobile units and pathfinder practices (where agreed with HB)
Care home workers - HB mobile units & MVCs and pathfinder practices (where agreed with HB)
Over 80s - GP PRACTICE
Healthcare staff - HEALTHBOARD MASS VACCINATION CENTRES
Social care staff - HEALTHBOARD MASS VACCINATION CENTRES
72 years to 79 years – HEALTHBOARD MASS VACCINATION CENTRES
70 year to 71 years (16/2/1951 and 1/4/1951) – GP PRACTICE
Under 70 clinically extremely vulnerable - GP PRACTICE
65 years to 69 years – HEALTHBOARD MASS VACCINATION CENTRES
16 years to 64 years with underlying health conditions which put them at higher risk of serious disease and mortality- GP PRACTICE (except those aged 16 and 17 years old who will be invited to Health Board Mass Vaccination Centres)
60 years to 64 years and not in other groups- HEALTHBOARD MASS VACCINATION CENTRES
55 years to 59 years and not in other groups- GP PRACTICE
50 years to 54 years and not in other groups – HEALTHBOARD MASS VACCINATION CENTRES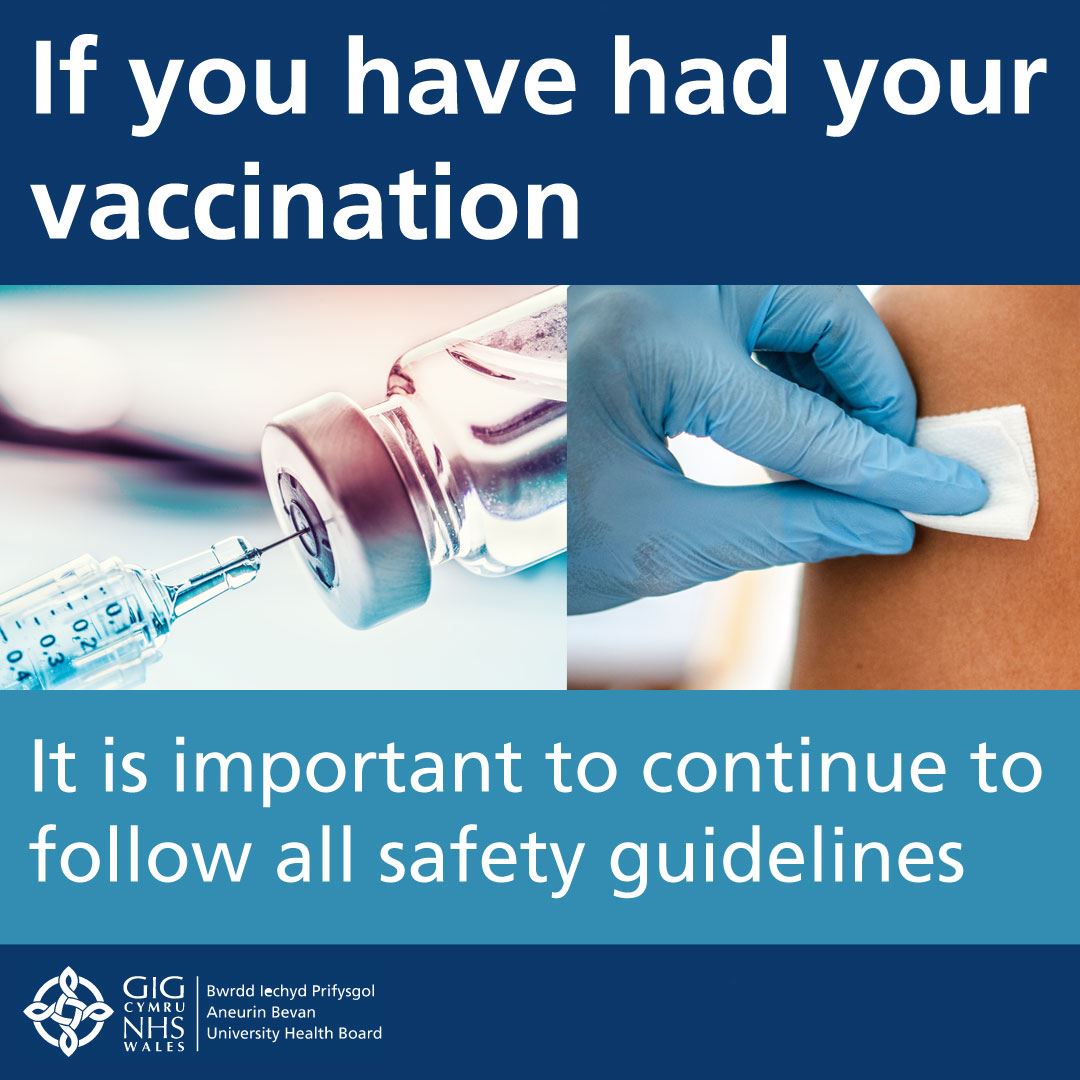 If you have had your vaccination
It takes time for your body to build protection after any vaccination.
It is important to continue to follow all safety guidelines to help stop
this pandemic. We do not yet know whether the Covid-19 vaccination
will stop you from catching and passing on the virus.
You must still:
stay at home
meet only the people you live with
work from home if you can
wear a face covering where required
wash your hands regularly
stay 2 metres from anyone you do not live with
Information can be found at https://gov.wales/coronavirus
As you are aware the Covid-19 vaccine has been released and is currently been rolled out by the welsh government.
The NHS will vaccinate people in order of clinical risk and you will be invited to a dedicated clinic directly though a central source. Please wait to be contacted.
We are experiencing a huge increase in telephone queries regarding the vaccine. Please do not contact the surgery to enquire when you will be invited or to book an appointment.
For more information please visit
We thankyou for your patience
The Rogerstone Practice Coronavirus (COVID-19) update 13/01/2021
Until further notice
Minor Operation appointments (joint injections, minor skin procedures)

suspended

Smears -

Continue

Coil insertions/contraceptive implant

suspended

Contraceptive injections (depot)

continue

Baby 6 week check and 6 week postnatal checks

continue

B12 injections we have recommenced this service
Prostap injections will continue.
Shingles /FLU / Adult immunisations will continue.
Midwife appointments – please contact your midwife – 01633 234 009.
Chiropody appointments – please contact the chiropodist – 01633 615 225.
Blood tests -

bloods requested by hospital and GP to

continue.

Annual Bloods

suspended

Blood Pressure checks - if requested by GP to continue. Annual/Routine

suspended

Prescriptions will go to the chemist of your choice (please inform us on any prescription requests). Any prescriptions currently at the surgery are to be collected from the window at the side of the building (at the Well pharmacy side of the surgery) between 2.00pm and 5.00pm. (There are posters in the window).

We remind you of 48 hour turn around on the prescription getting to the chemist – there may be further delays at the pharmacy side – please liaise with the individual pharmacy.

Please request prescription via the prescription box at the front gates to the surgery, or via My Health Online.

If you have a request for medication that is not on repeat - please write a request with the following details: name, date of birth, 1st line of address, name of medication, when it was last prescribed, and a short description of why you are requesting it now i.e. "'X' has helped I wish to continue" or "please can I go back on 'x' because 'Y' has caused nausea" This can then be put in the box at the gate and again should have a turnaround of 48 hours.

If there is a problem with your prescription a member of staff from the surgery will contact you via phone.
Routine/same day appointments have all been converted to a telephone consultation (Doctor or Nurse/Asthma review/COPD review/diabetes review).

A member of the healthcare team will contact you on that day via the telephone – unfortunately we cannot guarantee specific times due to other current pressures

On telephone consultation, if a Clinician feels that you need a face to face review, you will be advised what time to attend the surgery. Please ensure we have a current contact number for you.
Referral letters for private appointments can be directed straight to the private hospital providing we have the details of your apportionment date and time and consultant you are seeing, please inform the secretaries at the surgery of this information via a phone call if it isn't already known.
Fit Notes and Statutory Sick Pay (SSP). By law, medical evidence is not required for the first 7 days of sickness. After 7 days, employers may use their discretion around the need for medical evidence if an employee is staying at home.

Statutory Sick Pay will now be available for eligible individuals diagnosed with COVID-19 or those who are unable to work because they are self-isolating in line with Government advice. This is in addition to the change announced by the Prime Minister that SSP will be payable from day 1 instead of day 4 for affected individuals.

People who are advised to self-isolate for COVID-19 are able to obtain an alternative to the fit note to cover this by visiting the NHS Isolation note service website, rather than visit a doctor. This can be used by employees where their employers require evidence.
Update 09/01/2021
We are very pleased to annouce that we will commence COVID-19 vaccinations in priority order on 9th January 2021. PLEASE DO NOT CONTACT THE SURGERY ENQUIRING ABOUT THE VACCINE- WE WILL CONTACT YOU ONCE YOU REACH THE TOP OF THE PRIORITY LIST
The Joint Committee on Vaccination and Immunisation (JCVI) advises that the first priorities for the COVID-19 vaccination programme should be the prevention of mortality and the maintenance of the health and social care systems. As the risk of mortality from COVID-19 increases with age, prioritisation is primarily based on age.
This priority list is as follows:
residents in a care home for older adults and their carers
all those 80 years of age and over and frontline health and social care workers
all those 75 years of age and over
all those 70 years of age and over and clinically extremely vulnerable individuals
all those 65 years of age and over
all individuals aged 16 years to 64 years with underlying health conditions which put them at higher risk of serious disease and mortality
all those 60 years of age and over
all those 55 years of age and over
all those 50 years of age and over
It is estimated that taken together, these groups represent around 99% of preventable mortality from COVID-19.
JCVI advises that implementation of the COVID-19 vaccine programme should aim to achieve high vaccine uptake. An age-based programme will likely result in faster delivery and better uptake in those at the highest risk.