Configure Appointment Details
Routine Appointments
To make an appointment please telephone the practice after 10am. We will then advise you of appointments available and choice of healthcare professional (i.e. doctor, nurse, healthcare assistant). All Appointments have to be booked via telephone we cannot book appointments at the reception desk.
Patients can also book appointments online by using 'My Health Online'. In order to register for this service you can either print out the form or collect from the reception desk at the surgery.
Please see our "My Health Online" page on the further information menu below for registration forms, a user guide and answers to frequently asked questions.
Care Navigation
Care Navigation (Newport GP Surgeries)
Care Navigation: What does it mean for you?
Receptionists are now being trained as "Care Navigators" with the support of your GPs.
Care Navigation ensures you receive care from the most appropriate professional - not all requests need a GP appointment.
All patients will be politely and confidentially asked the reason for their appointment request. If you have symptoms that are better suited to care from other organisations, community based services or surgery team members, the Care Navigator will give you the choice to access these instead.
These could include:
Minor injuries units
Local pharmacies
Urgent eye care from Opticians
Emergency dental services
Direct access physiotherapy
Practice nurse
Community connectors
Care Navigators understand that what you tell them may still mean you need to see a GP. Care Navigators will never make clinical decisions about you! Please be patient with Care Navigators - the best way to get you the most appropriate support is by asking you specific questions.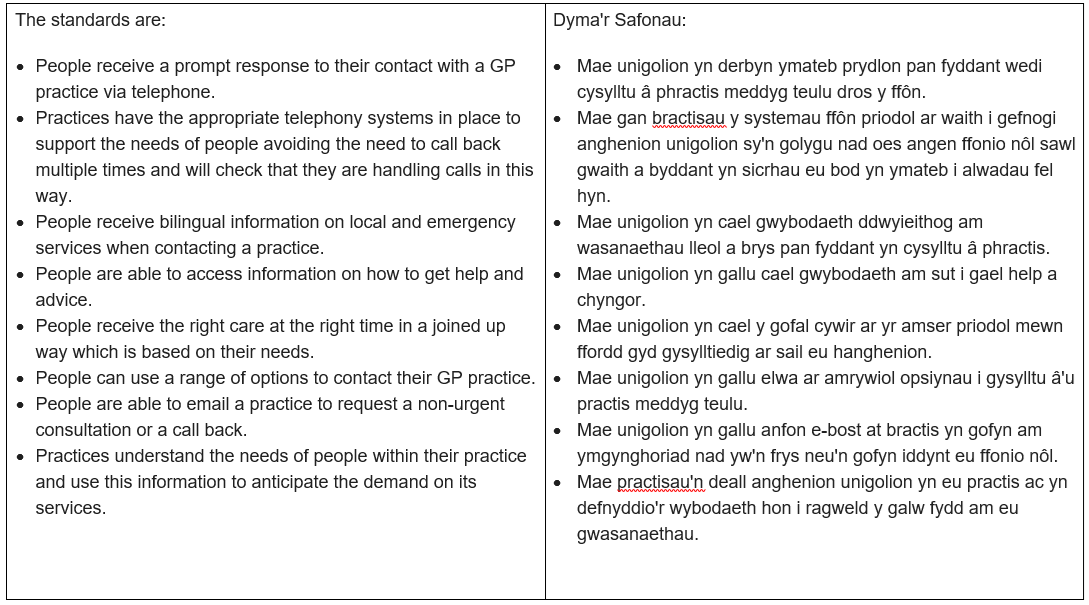 Update 14/05/2021
We are currently experiencing an unprecedented demand for routine appointments at our surgery. This is mirrored across the Health Board.
As we come out of this lockdown and some normal services resume, we ask for your patience and understanding as we work tirelessly to find ways to be able to provide you with more GP routine appointments.
The Rogerstone Practice are hoping to be able to re-introduce face to face GP appointments shortly and are looking at options to ensure the safety of our patients and staff members.
We will update our Facebook page every day as to when all routine appointments available to be booked that day have gone to save you calling.
We would also like to make you aware of the following alternative services to access:
NHS 111 online advice
Choose Pharmacy for common ailments
Physiotherapy self referral
Eye care
Dental services
We will continue to keep you updated
Morning Access to Same Day Appointments
This gives patients access to an appropriate clinician, within 24 hours, for urgent conditions. Same day appointments are bookable by contacting the surgery by telephone between 08:00 and 10:00 if you feel you have an urgent condition that cannot wait for a routine appointment. Please be prepared to give brief details of the reason why you are calling.
Please note that we run a nurse triage system where patients are allocated an appointment with a triage nurse who will assess your symptoms/concerns. Treatment will then be provided either by the nurse or one of the doctors. This will ensure each patient always sees the most appropriate clinician within an appropriate period of time.
Home Visits
Requests for visits should be made before 10.00am on the same day by contacting the surgery. The Health Professional on duty will decide what is appropriate.
This service normally covers only terminally ill, housebound and elderly (frail and limited mobility).
Cancel an Appointment
It is important that you inform the reception staff if you are unable to attend your appointment, this will allow that appointment to be offered to another patient. If you fail to notify the Practice that you are unable to attend, you will be sent a letter informing you that you have defaulted from your appointment. Persistent defaulters maybe removed from the list.
You can also complete our appointment cancellation notification request form. This can only be used if your appointment has been arranged for more than 24 hours in advance. (excluding weekends and public holidays). You can also text to cancel your appointment.
Text Reminder Service
We have a texting service which allows you to receive confirmation and reminders about your appointments.
To have this service you will need to register by completing a consent form.
Please remember to update your contact details with us when you change address, telephone numbers and email address.
Late For Your Appointment
Please attend your appointment on time, if you are late you may not be seen. If you are not seen you will not be able to rearrange your appointment until the next working day-except in the event of an medical emergency that requires immediate attention.
Interpreter
If you require an interpreter to attend with you when you see your Doctor please notify the receptionist and she will arrange this for you.
Doctors Booked Appointment Times
| | | |
| --- | --- | --- |
| Monday | 08:30 – 11:00 | 14:00 – 17:50 |
| Tuesday | 08:30 – 12:30 | 14:00 – 18:50 |
| Wednesday | 08:30 – 11:00 | 14:00 – 17:50 |
| Thursday | 08:30 – 11:00 | 14:00 – 17:50 |
| Friday | 07:30 – 11:00 | 13:00 – 17:50 |
Nurse/Healthcare Assistant Appointment Times
| | | |
| --- | --- | --- |
| Monday | 08:30 – 12:30 | 14:00 – 17:30 |
| Tuesday | 08:30 – 12:30 | 14:00 – 18:45 |
| Wednesday | 08:30 – 12:30 | 14:00 – 17:30 |
| Thursday | 08:30 – 12:30 | 14:00 – 17:30 |
| Friday | 07:30 – 12:30 | 14:00 – 17:30 |